Io sto con la sposa: First screening of "on the mov(i)e"
The first screening of "on the mov(i)e – a film series on migration" took place at the CinéMatte on 3 April 2017. The Italian film "Io sto con la sposa" triggered a passionate discussion with Simon Sontowski and Constantin Hruschka.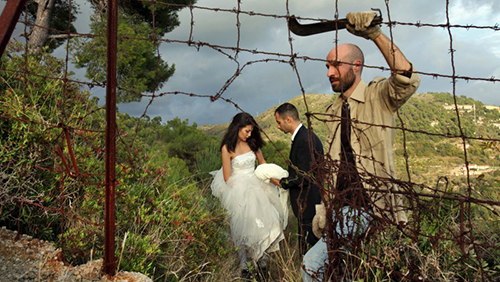 by Marco Garofalo © GINA Films
More than 40 people attended the film evening at the movie theater "CinéMatte" in Bern to see "Io sto con la sposa", an Italian film, which addresses the topic of migration control in an original and critical way. The film was born out of an encounter of the filmmakers with five refugees in Italy. The filmmakers decided to help them complete their journey to Sweden – and hopefully avoid getting themselves arrested as traffickers – by faking a wedding. The film was well received by the audience who accompanied this highly emotionally charged journey through Europe. It also triggered very interesting discussions with the two experts who were invited: Simon Sontowski, doctoral candidate in human geography at the University of Zurich and volunteer at "Alarmphone Schweiz", and Constantin Hruschka, Head of Protection at the Swiss Refugee Council. Their contributions were extremely valuable as they helped the audience understand the legal framework and the socio-political context in which the film plays. They further raised some critical points regarding the European border regime and asylum system.
© Tiphaine Robert, SNyMS
"On the mov(i)e" is a film series organized by the Swiss Network of young Migration Scholars (SNyMS) and financed by the nccr – on the move. By screening various films dealing with the topic of migration in varying ways, the network aims at informing and engaging a non-academic public in an active discussion on migration-related issues. The next screening will take place on Monday, 22 May 2017 at the CinéMatte Bern. We will see "Drachenfutter", a 1987 West German film, which will enable us to discuss about the economic and social integration of asylum seekers together with our experts, Harika Yilmaz (Autonome Schule Zürich) and Daniel Auer (nccr – on the move, University of Lausanne). You are very welcome to join us!
Laura Rezzonico, doctoral student on the project Restricting immigration: practices, experiences and resistance