How many migrants get naturalized over time?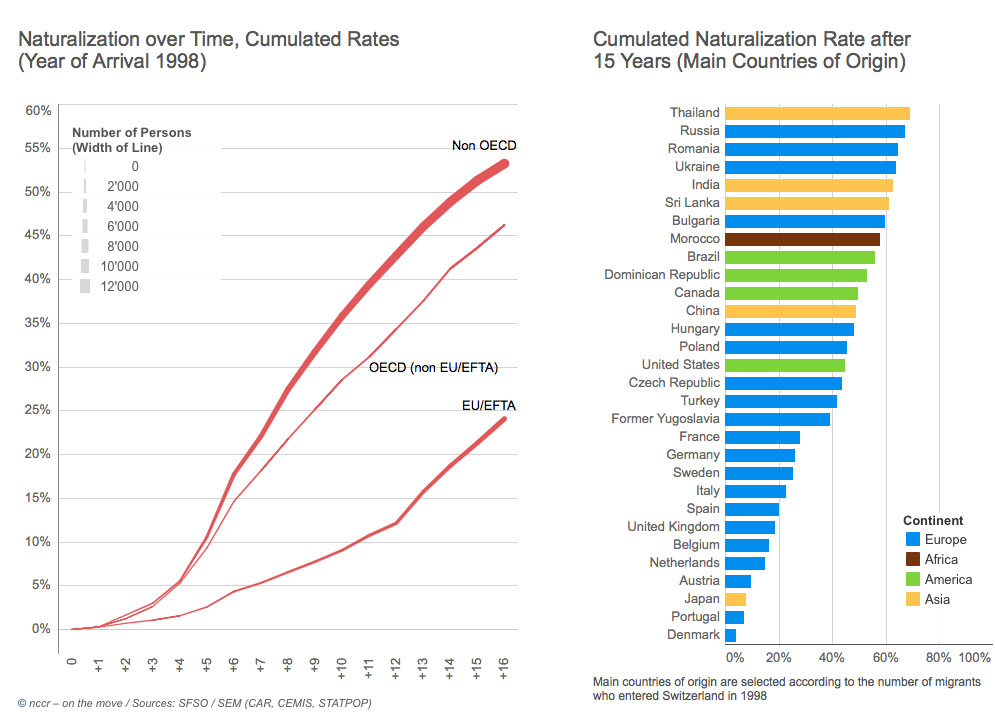 If you have problems with how the indicator is displayed, click here to view it in a new tab on the web browser.
Of the foreign nationals who immigrated to Switzerland in 1998 and have remained in the country, a total of 7% obtained Swiss nationality after five years, 22% after ten years and 39% after sixteen years.
There are huge variations in naturalization patterns depending on the country of origin: Immigrants from non-EU/EFTA countries are much more likely to be naturalized than other nationals. After sixteen years in Switzerland, fewer than 10% of Austrian, Danish or Japanese nationals who had arrived in 1998 were naturalized. At the other extreme, approximately two thirds of people from India, Russia, and Thailand had obtained Swiss nationality. Of the main migrating communities (France, Germany, Italy), approximately one quarter of migrants still in Switzerland had become Swiss citizens.
Where in Switzerland are migrants naturalized the most?
–
Definitions
Ordinary naturalization: This applies to all foreign nationals who meet the conditions laid down by the federal authorities, as well as the cantonal and municipal conditions, which can vary widely from one canton or municipality to another. The application must be submitted to the cantonal or municipal authorities.
Facilitated naturalization: Facilitated naturalization is an option mainly for the spouses of Swiss citizens and the children of a Swiss citizen who do not yet hold Swiss citizenship, subject to certain legal conditions. This falls under the jurisdiction of the federal authorities.
–
Source: Swiss Federal Statistical Office, Central Register of Foreigners (1998–2007), SYMIC Register (2008–2010), STATPOP statistics (2010–2014)
Note on the methodology: The graphs show the number of foreigners who have obtained Swiss nationality by naturalization as a proportion of all those who immigrated to Switzerland in 1998 (holding a B, C, or L permit) and who are still in the country. Both types of naturalization (ordinary and facilitated) are included. Due to the methodology used, it is not possible to distinguish between the different nationalities of the former Yugoslavia and they have therefore been grouped together.
To access complete data files (Excel), please contact info@nccr-onthemove.ch.