Repository on Citizenship Law in Switzerland
The Repository on Citizenship Law in Switzerland offers the first comprehensive, open-access and user-friendly repository of past and current legal documents on citizenship in Switzerland, at the federal level and in the 26 cantons.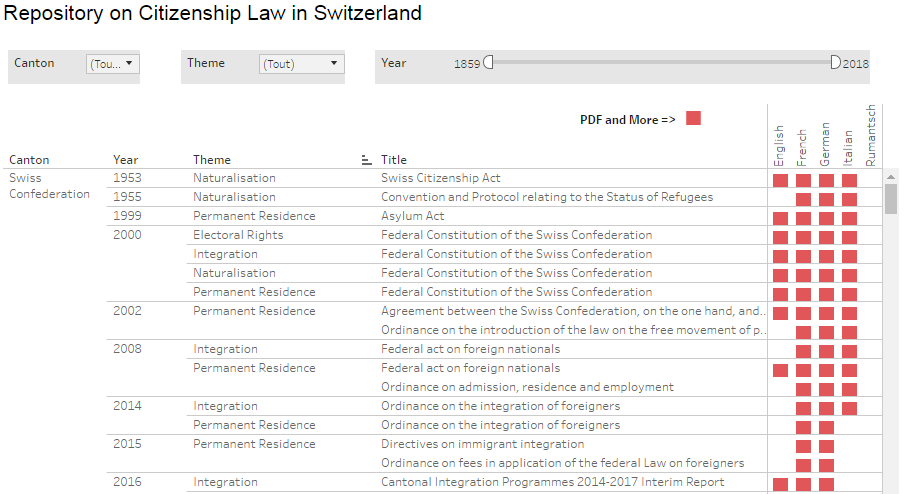 Repository on Citizenship Law in Switzerland
The database is organized around four main themes:
Ordinary naturalization on the acquisition of Swiss citizenship status other than at birth or through the facilitated naturalization procedure (for spouses);
Permanent residence on the acquisition of a permanent residence permit (the so-called C-permit);
Integration including all guidelines, measures and laws introduced with the aim of fostering immigrant integration;
Electoral rights on the right to vote and to stand as candidate at all levels and all types of elections.
It includes the following variables: Canton, Date of Enactment, Date of Entry into Force, Date of Last Amendment; Title of Document (English), Title of Document (original language), Relevant Article(s) [if applicable], Publication/Original Source, Status of the Law (Enacted/ in force/ repealed / bill), Link to Full Text, Full Text in PDF (in several languages if available), Hyperlinks to consolidated versions on the internet.
The repository was developed by Stefanie Kurt and Jean-Thomas Arrighi, designed by Andreas Perret, in collaboration with Valentin Zuber and with the assistance of Deborah Gonzalez, all three of whom we are truly indebted.